Free Online Stores and order fulfillment with no contract
As the scope of merchandising for breweries has grown, so has the need to provide an online solution. We have tailor made our online store fulfillment program specifically to the needs of breweries.
Whether it's simply a site for your customers to buy your merch or an all-inclusive fulfillment program including reps, distributors, pub managers, and customers, we have simple and effective options at no cost to you.
Feel free to dig into the information below or reach out to us with any questions, but here are the highlights:
We produce, inventory, and ship your brewery's merchandise from our warehouse.
We don't charge for this service outside of a small fee to cover the cost of the packaging materials.
We can scale your program up or down to fit your exact needs.
Our online store fulfillment program takes the headache out of distributing your merchandise to customers and key partners such as sales reps, distributors, pubs/retail outlets, employees, and events. Our online portal allows partners and customers to order directly from our central distribution warehouse and provides you with automated processes such as tracking, real-time inventory, reporting, bulk shipping, and par level monitoring. We can help you stay organized and efficiently manage your merchandise program.
PLATFORM OPTIONS
Customer Facing Online Store – For your customers to order your merchandise at retail pricing.
Wholesale Ordering Portal – For your distributors, reps, retail leads, etc. to order at wholesale pricing or with a PO.
Our system is set up to have both on the same store, but you can choose one or the other if you only need or want one of these platforms.
COST
There is no cost for the building, hosting, or warehousing of your online store.
The only added cost is a $2.00 per shipment materials charge to cover packaging. This is built into the shipping cost to your customer.
PAYMENTS
Any funds generated will go directly to you. We do not have access to any part of the financial transaction.
Credit card payments can be made through the gateway of your choice (typically PayPal, Stripe, or authorize.net).
PO and co-op payments can be set up – see the "Wholesale Partners" page.
INVENTORY & MAINTENANCE
We will host the store on our servers but will make the store seamless as if it is still part of your site.
Store domain is determined by you and is an extension of your website – e.g. shop.brewery.com
We will maintain the online store, adding/updating products, photos, descriptions, pricing, etc.
We will warehouse and inventory all products for the online store at no charge.
Monthly inventory reports will be sent. On-demand inventory reports are also available.
Physical inventory counts will be made at least once per year or when a discrepancy exists.
Our turnkey brewery-to-consumer online store program allows you to offer a first-rate shopping experience to your online visitors. The shopper will have the opportunity to purchase merchandise, gift cards, memberships, and even tickets to special events & beer releases. Gone are the days of utilizing taproom or office staff to handle shipments and finding space to stock the goods. We do the dirty work to save you time, staff, space and money.
CUSTOMER PAYMENT
Payment is made via credit card through the gateway of your choice. Typical payment gateways are PayPal, Stripe, and authorize.net.
All funds go directly into your bank account. We do not have access to the financial transaction.
STORE HOSTING
We host the store on our servers, but we make it seamless as if it is still part of your website.
The subdomain address is determined by you and is an extension of your current website. e.g. – shop.brewery.com
Inventory & Maintenance
We will maintain the online store, adding/updating products, photos, descriptions, pricing, etc. at your direction.
We will warehouse and inventory all products at no charge.
Monthly inventory reports will be sent along with the monthly freight bill for all outbound shipments. On-demand or more frequent reporting is also available.
Physical inventory counts will be made at least once per year or when a discrepancy happens.
SHIPPING
We will use USPS or UPS, whichever is the most cost effective (or quickest for time sensitive orders).
Your customer pays the brewery for the order plus shipping & handling at checkout.
We will send a monthly freight bill for all outbound shipments, which has already been paid for by the customer.
Our USPS and UPS rates are excellent, better than most breweries are given, and we do not make any margin on shipping charges, they are a pass-through charge.
We will pick and ship the order within 2 business days.
All shipping labels, packing slips, etc. will only show your brewery's information.
COSTS
There is no charge to build or maintain the online store.
There is no charge to warehouse your inventory.
The only charge is a $2.00 per shipment fee to cover the cost of packing materials & labor. This charge is typically built into the shipping cost to the customer.
TAXES
Tax laws for online store sales vary widely from state to state.
Please check with your tax accountant to determine in which states you should be collecting tax.
We are happy to provide any knowledge that we have, but we are not tax experts, so it's best to check with a pro.
RETURNS & EXCHANGES
The return/exchange policy is directed by the brewery, but we can provide stock verbiage if you'd like.
CUSTOMER SERVICE
We are happy to set up an email address and field customer service questions for you. This email would be 'yourbrewery@breweryfulfillment.com'
If you would prefer to field customer service questions on your own, just let us know which email is best to direct inquiries to. We will set this as the "from" email address on the orders.
Either way, both companies will be included on all correspondence to be kept in the loop and notified if something needs to be handled.
PROMOTIONS
We can set up one-time use, ongoing, or time-bound discount codes and sales on any or all items at your direction.
It is highly recommended that you, the brewery, take an active role in promoting your online store via social media, etc.
Brewery Branding won't promote the online store, we host and fulfill, it's up to you to drive traffic to the site.
GIFT CARDS
We are happy to inventory & post pre-loaded gift cards on the site.
Gift card only orders will ship via USPS in a standard envelope with a stamp. We charge $1.00 total shipping & handling for these orders.
ORDERING
The back-end ordering system is designed for bulk ordering – checking out with multiple products and sizes is simple and intuitive.
Each partner will be assigned a unique login and placed into a customer group determined by the brewery.
Each customer group will have a price-tier associated with it, so you can co-op products, give a spending limit, charge cost or cost +10%, no charge or limit, whatever you'd like.
Typical categories include: Distributors, Sales Reps, Pub/Retail Managers, Employees, Industry Partners, etc.
Each login has access to their order history and can store common ship-to addresses.
If you've ever ordered on an online store, you can order here just as easily.
PAYMENT
Partner payments can be made via credit card or associated with a PO.

This is determined by the brewery and can be assigned differently to each customer group.
For example, when a distributor makes their selections and proceeds to check out, the credit card option can be used and all funds go directly to the brewery. Alternatively, the PO option can be used with no funds being exchanged and the brewery can allocate purchase totals to their specific budgets (co-ops, departments, etc.).
SHIPPING & PACKAGING
Partners will be able to select from multiple shipping options once an order is placed.

Common options include: Next Day Air, Ground, USPS, Will Call (Portland, OR only).

Partners have a notes section to specify specific instructions, such as firm in-hands dates.
Orders with multiple SKUs will be packaged in the most economical way possible.
Many breweries opt to fulfill some bulky or heavy items on their own, usually accompanying a beer shipment.

The items typically included: Glassware by the case, coasters, signage.
Facilitating these orders through the system is possible, the only downside is that inventory tracking on our end is not. So, it will be up to the brewery to monitor inventory and tracking on these specific items.
REPORTING
Inventory reports are standard and accompany the monthly shipping and handling bill.
If other reports are needed, we'll accommodate requests within our ability at a frequency that works for the brewery.
General or specialized sales reports can be requested; we're happy to provide you with any reports that our system can generate to help your program succeed.
Typical reports include: Sales by product, purchases by specific partners, sell-thru analysis, etc.
While hosting and fulfilling orders for your online store, Brewery Branding will supply you with standard reports at the end of each month. If you require additional reporting options, customer reports may be available upon request.
STANDARD REPORTS
Inventory Report

Monthly
Information included: SKU, Product Name, Quantity left in stock at end of month.

Freight Cost Report

All outbound shipments and associated costs will be sent with the monthly freight bill.

Detailed Sales Report

Monthly
Information included: Order number, Date, SKUs, Customer Info, Quantity Ordered, Subtotal.
CUSTOM REPORTS
Detailed sales reports with additional requested info, such as 'ship to' address.
Best Sellers Report.
Distributor / Sales / Pubs Only Reporting.
Consumer Only Reporting.
Monthly or Yearly Sales by Item.
Month to Date Sales Reports sent upon request.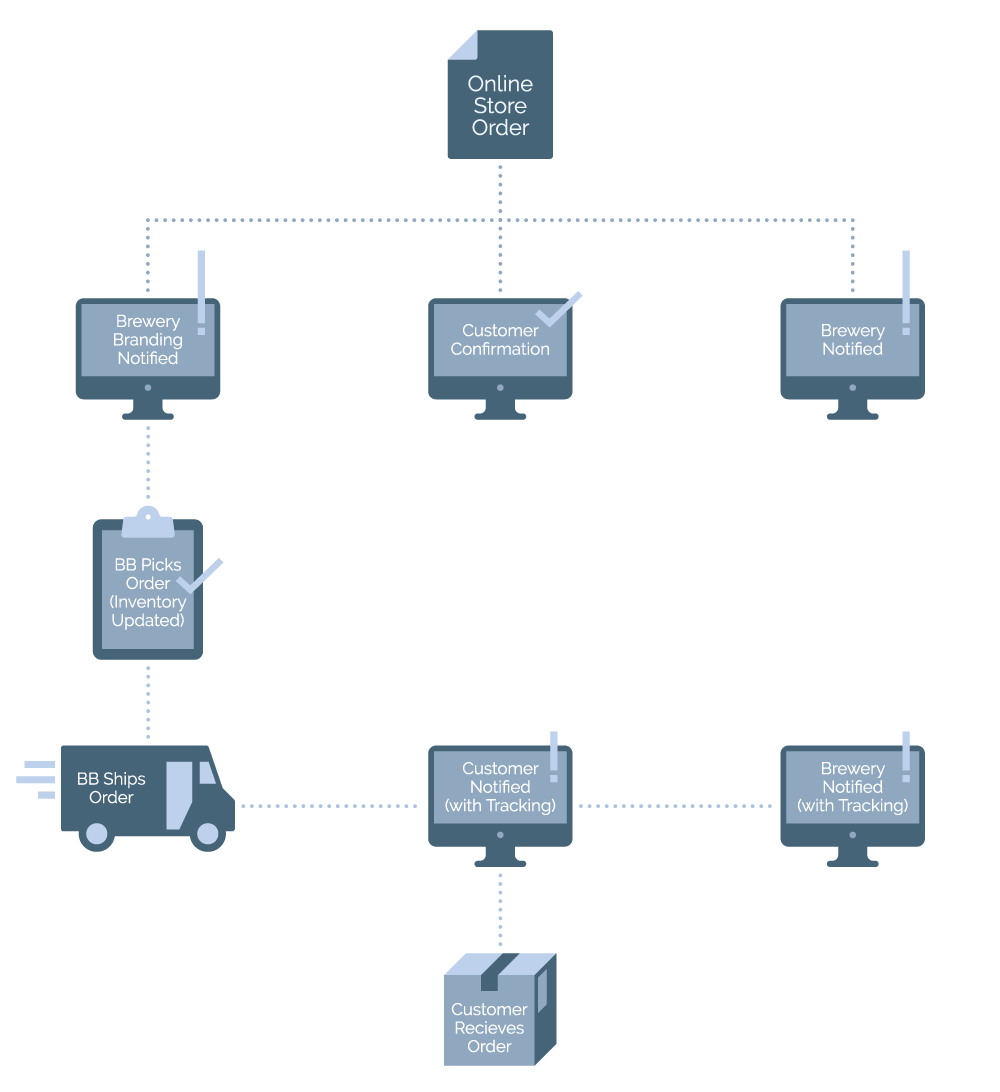 HOW MUCH DOES YOUR ONLINE STORE HOSTING OR FULFILLMENT SERVICES COST?
There is no charge to build, host, or maintain your online store. Shipments incur a $2.00 per shipment handling fee that covers the cost of packaging. This cost is typically built into the shipping cost to your customer. So, literally no cost to you.
WHAT'S IN IT FOR BREWERY BRANDING?
Our online store & fulfillment program is a value-added service that we provide to help build a successful and long-term relationship with you and your brewery.
HOW LONG DOES IT TAKE TO GET UP & RUNNING WITH AN ONLINE STORE?
3-4 weeks, conservatively. This allows us time to gather required information, build & skin your site, perform beta testing, and receive/post inventory.
WHO COLLECTS THE FUNDS FROM PURCHASES?
Once an order is placed, all funds are processed through your payment gateway and land directly into your account. We do not have access to your funds at any point during the transaction.
WHERE IS THE ONLINE STORE HOSTED?
Your online store will live on our server. However, it will be skinned to follow the same formatting as the rest of your brewery site. The user experience will be seamless, so that the customer feels like they have never left your site. The subdomain for your online store is determined by you. Example: shop.yourbrewery.com
WHERE DO YOU SHIP FROM?
We ship all packages from our warehouse & offices located in Portland, Oregon.
CAN I SET UP LOGINS FOR MY TAPROOM STAFF & DISTRIBUTORS TO PLACE ORDERS?
Sure thing! Simply pass along their names & email addresses and we'll take care of the rest. You'll be able to set them up to pay via credit card or PO, with or without a discount level, and with or without required approval.
WHAT REPORTS ARE AVAILABLE TO US?
A set of standardized sales & inventory reports will be emailed to you once per month. Customized and/or more frequent reporting may be accommodated upon request.
CAN WE SET UP SALES AND DISCOUNT CODES?
You bet! We can set up one-time use, ongoing, or time-bound discount codes and sales on single items, all items, or a subset of specific items.
IS SOCIAL MEDIA INTEGRATION AVAILABLE?
We will work with you to implement any available social media features you'd like to include.
HOW ARE RETURNS HANDLED?
All return correspondence will be routed through the email address that you provide, such as shop@yourbrewery.com. Simply loop us in on the particulars of the return or exchange and we'll take care of the rest.
If you have a specific method that you would like us to follow for your return/exchange program, we are happy to accommodate, if possible.
CAN YOU SHIP OUTSIDE OF THE U.S.?
Shipments are typically restricted to U.S. destinations. However, if such an occasion comes up as an anomaly, we'll do our best to help out any way that we can.
CAN WE SHIP BEER?
Not from our warehouse. However, beer may be sold through your online store (on our platform) if you're able to ship it from your end. Beer purchases can be restricted to just the U.S. states that you're legally able to ship to.
HOW ARE SALES TAXES HANDLED?
We can configure your online store to automatically charge tax appropriate for each state you should be collecting in. We'll need you to provide that list and recommend checking with your tax accountant.
CAN WE SEND YOU PRODUCTS THAT BREWERY BRANDING DIDN'T MAKE?
If it's an item that doesn't fall into our wheelhouse, we're happy to take a reasonable quantity. These items are things that we don't specialize in (glassware, tap handles) or items that are unique to a local or exclusive vendor (soaps, bottle cap jewelry, etc.).
CAN WE MAKE CHANGES TO THE ONLINE STORE OURSELVES?
Not currently, but we're here to help make timely adjustments as you need them, just ask!
WE'D LIKE A PARTICULAR FEATURE TO BE INCLUDED ON OUR STORE. CAN YOU MAKE IT HAPPEN?
Reach out and let us know what you have in mind. If it's feasible, we'll make it happen!
DOES EVERYTHING NEED TO BE PRODUCED BY BREWERY BRANDING?
If it's in our wheelhouse, it needs to be produced by us. Products that are in our wheelhouse include: apparel, headwear, and general merchandise.

Examples: T-shirts, hats, tin tackers, stickers, bottle openers, coasters, koozies, buttons, etc.

We're happy to inventory & fulfill reasonable quantities of items we don't specialize in or items unique to a local or exclusive provider as long as prior approval is obtained.

Examples: Glassware, tap handles, soaps, bottle cap jewelry, artwork.

Brewery Branding tries our best to package all items with care, but due to the fragile nature of glassware, we are unable to guarantee it's transit. Brewery Branding will not be responsible for any damaged glassware, and will not reimburse for any expenses or replacements due to damage.
HOW LONG WILL BREWERY BRANDING KEEP OUR STUFF?
We'll notify you of any slow-moving products and work on solutions to make sure your product is working for you. Our time limit for products that have not moved is 24 months from arrival to the warehouse. We can set up a sale or clearance section to help alleviate any of these issues well in advance of the time limit.
WHAT IF WE CHANGE OUR BRANDING?
In the event of a logo/art change, we'll ship the outdated items back to you. If you'd prefer to keep them on the site, we can set up a sale or clearance section for these items.
What are our obligations?
While our online store program is non-contractual, the following conditions could result in discontinuation of the program, shipment of all goods to the brewery, and deletion of the online store:

Failure to keep current on payments.
Lack of store activity.
Egregious sending of non-BB produced goods.