Have Some Questions?

We've put together a list of the most Frequently Asked Questions we get day to day.
What different types of screen printing do you do?
Screen printing is a wonderful combination of art and science. We are able to accommodate almost any type of screen printing up to 16 colors. This ranges from the most traditional Plastisol-based inks to water-based, discharge, metallic, and even glow in the dark. We've got a ton of print options to choose from & are happy to make recommendations based on your goals for the project.
Some things we will consider are:
The feel of the print
Desire to match specific colors
Vintage vs. vibrant look
Garment fabric content
What do you mean when you ask for Vector vs Raster art?
Raster art refers to images that are not scalable or otherwise editable for concept / production purposes. These will be .png or .jpg file types. Raster-based files can appear pixelated at particular sizes, making this format not ideal for our purposes. Vector art is created using paths instead of pixels, which allows it to be scaled to the correct size, high resolution for quality printing, among other things. These will be .ai, .eps, .pdf, or .svg file types. In order to make sure your artwork looks as good as possible on your items, vector files are required for most products and printing techniques.
Can you explain the different types of Patches?
Patch techniques are largely determined by the artwork and desired look. We're happy to make a recommendation!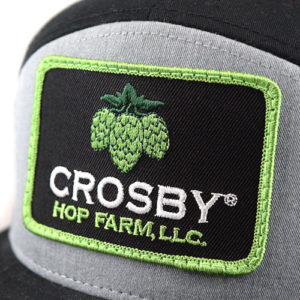 Embroidered Patch (most common)
This is the "classic" patch look: standard thread stitching on a fabric patch.
Offers nice depth from the stitching laying on top of a twill backing
Has specific measurement parameters
Has physical limitations in terms of how much detail can be achieved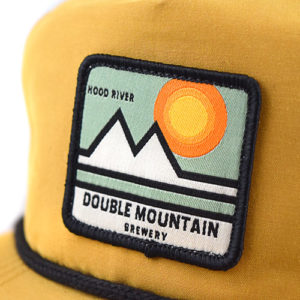 Woven Patch
Woven patches are composed of thinner threads with no fabric, stitched in a continuous design.
Has a smooth surface with no raised thread texture
Ideal for a clean, simple look
Can accommodate much finer levels of detail, including small type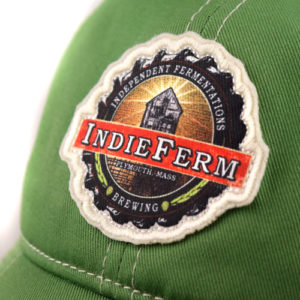 Sublimated Patch
These patches are digitally printed for the highest detail possible.
Ideal for full-color / highly-detailed / photo-based artwork
Our thinnest patch option
No thread or stitching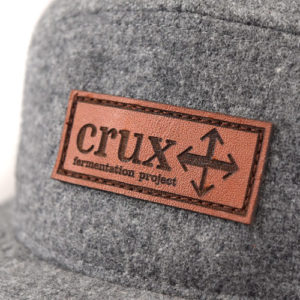 Leather Patch
Faux or genuine leather patches have a premium appearance and can be stamped or laser-engraved offering excellent visual quality.
What are your minimums and lead times?
Order minimums tend to be based on the items you're looking for and decoration methods we'll be using for those items. While it varies greatly, here's a rough guide to the most popular items:
Printed & Embroidered Apparel: 2-3 weeks production
Patched Headwear & Apparel: 4-5 weeks production
Custom Headwear: 2-3 weeks for sample + 45 days from time of sample approval
Simple Merch Items: 2 weeks production
Custom / Sourced / Import Merch Items: 4-12 weeks, depending on the item
We'll always strive to find an item with a lead time that works for your project! If you have an event-specific item, make sure we know in advance so that we can verify the date can be met.
Do you have a catalog?
We don't have a typical catalog. Our website has our most popular items with pricing shown for anything that is standardized, which is a great place to start. If you have something specific in mind, we can provide you with links to various supplier pages with item options you can click through and explore. Let us know if you're not seeing what you're looking for, as we can source most things under the sun and love a challenge!
Can you design and quote 20 different items for me?
Whether you are starting from scratch, rebranding, or just need a whole new merch lineup... you've come to the right spot! Let's take your project one bite at a time and start with the core items. Once we've got those nailed down and in production, we'll move onto the other items. If you need items for an event, be sure to let us know so we can prioritize based on the product timelines.
Can you create custom art for my merch?
We are happy to come up with some cool ideas and different applications of your artwork on merchandise, but we don't get too deep into custom art creation. We have lots of talented designers that we are happy to refer you to. They are typically much less expensive than an agency!
Can I do less than 144 on custom hats?
For lower quantities on hats, your best bet is to check out our stock hat options! In most cases, going with a domestic stock hat allows for as few as 48 pieces. If you are set on custom, We just launched a 72-piece option for our cut & sew program. There are some limitations in terms of specialty fabric & decoration types with this option, as well as a higher price point, but the quality of these hats speak for themselves!
Can I split the 144 between colors?
We don't have any wiggle room when it comes to mixing & matching styles or colors with our custom hat program, though it is an option through our
stock headwear program
.
Tell me about your online store program
With our online store/fulfillment program, we have taken the entire program off of your plate; including site design, inventory management, fulfillment, and reporting. We don't charge for any of those services outside of a small shipping & handling fee. Why? Because breweries need it and we're great at it. It allows your fans to buy more merchandise from you, which allows you to purchase more merchandise from us! Check out our FAQ's and more info
here
. If you're interested in looking at a few examples, check out:
How do I get started?
Please reach out to
info@brewerybranding.com
or 800-396-7520 and we'll put you in touch with your area rep. If you want to get ahead of the game, you can go ahead and fill out this New Customer Form for below with any specific design brand guidelines + design direction will get the ball rolling. Once we have approved mock ups from our art team, we are typically able to turn quotes within 24 hours.